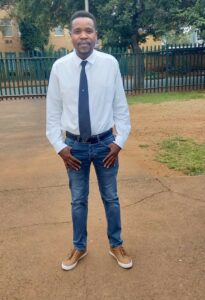 Like many others, Mpendulo Mahlalela (26) left his hometown and moved to Gauteng in search of employment opportunities.
Mpendulo grew up in Jeppes Reef, Mpumalanga. He was raised by his Grandmother and completed his matric in 2015. After his Grandmother passed away, Mpendulo realised that he didn't have anyone to lean on for financial support. He decided to go in search of a job somewhere else as he wasn't having any luck in his hometown.
Mpendulo arrived in Germiston at the end of 2021 with hopes of finding employment and a better life. But he was alone with no one to call or anywhere to go. After spending a week looking for work and living on the streets of Germiston, Mpendulo decided to leave and try his luck in Kempton Park.
Mpendulo spent three days living next to a taxi rank in Kempton Park. This was where he met someone who told him about MES Kempton Park. He immediately made his way to us in search of shelter.
Mpendulo has been with us since and he is determined to build a better life for himself. He has just joined the GROW job rehabilitation team.
He shared that: "MES Kempton Park has given me more than I was looking for. Firstly, I am grateful for the humble service that I have received from the staff. I was welcomed without judgment and with patience and persistence my Social Worker continues to work with me through my various challenges".
"While working at GROW, my hope has been restored because I know that I have something to look forward to the following day, instead of sitting around aimlessly."