HERE ARE SOME GREAT STORIES WORTH SHARING
JAMES DHLUDHLU'S FAITH AND HOPE IS REVIVED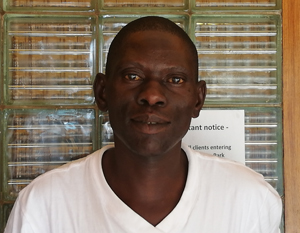 James Dhludhlu is a 40 year old man, who is also a shelter client at MES Kempton Park and proof that hard work does pay. Through the GROW programme, we have recently managed to secure a temporary job for him at a nearby construction site.
James shares his story: "Originally I come from Tembisa. A few years ago I lost my job and started to experience some conflict with my family, this led to me falling ill with no one to help me and no place to sleep. When I came to MES Kempton Park, my story changed. MES gave me accommodation and I got involved in the GROW programme. In 2017 I got a job at a construction site in Nimrod Park and I was able to rent out my own place. However the construction job came to an end and I found myself going back to MES Kempton in October 2019, at this point I had lost all hope and didn't see any hope for me and my future.
But MES and the church close to MES helped me and gave me a chance. They helped me with counselling which gave me hope for the future. Now I'm strong mentally, physically and spiritually. I am a believer and have faith in God through the lessons of life and with brother Soul (the Social Auxiliary worker) always encouraging me to not lose hope and to be patient.
At MES I have a shelter over my head, food to eat and clothes to wear which makes me very thankful. To my fellow brothers and sisters I would like to say first trust God with all your life. Then set long term goals for yourself, don't be short sighted but work for a better future. MES is a place where you can turn your life around. MES cannot help to turn you or your life around if you don't discipline yourself, it is your choice. You will not find the right answers in drugs or alcohol."
DONALD AND DAISY – A POSITIVE KICK START TO THE NEW YEAR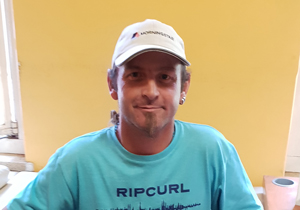 James Geldenhuys is a 37 year old male, whose journey with MES started as a shelter client in July 2019.
After joining the GROW job rehabilitation programme, his life story was revealed, during a skills session, presented by our Social Auxiliary worker, Soul Malatji. On that specific Monday morning, James had the courage to came forth and state that he had anger issues and needed help.
This revelation, encouraged us as a branch to start with counselling sessions. However, as our staff resources are very limited, we approached volunteer counsellors to assist us with these type of sessions. James was then also the first client to attend regular sessions and always completed his homework with diligence. He eventually progressed so well that he eventually landed a job and moved out of the shelter. James is still continuously attending counselling sessions and busy with his emotional healing journey. "We are grateful for our volunteer counsellors assisting us with making a difference in the lives of our clients at MES" said Helena van Blerk, Branch Manager.
Soul added "I worked very closely with James during the time at which he was a part of GROW. During this time I got to learn more about his life as well as his character. I am very proud of how hard James has worked to change his life for the better."
DENISE PETCH IS POSITIVE ABOUT THE FUTURE
Denise Petch is an elderly female client of MES Kempton Park. We sat down with her during Women's month to find out a bit more about her. This is what she had to share.
She lived in Kempton Park for her entire childhood and most of her adulthood, where she worked for 25 years in various divisions at a Corporate bank. She shared her feelings about dealing with an unfair dismissal and being fortunate to have won her arbitration case.
After this unforeseen matter, she found it difficult to find permanent employment. Denise continued to search for employment while being faced with additional personal strain of taking care of her mother. After her mother's passing in 2004, Denise got involved with a man who financially abused her for three years and when she had no more money to give, he left her destitute. By good fortune, someone sponsored her to come back to her hometown, Kempton Park, and shortly after that she found her way to MES Kempton Park.
She expressed her gratitude for the value MES has brought to her life by introducing her to the GROW programme, convincing her sisters to sponsor her stay at the shelter and for the support from John and Soul during the time she was hospitalised for 10 days.
Denise says that even though she is not completely out of the woods yet, she knows that whenever she needs help or advice, the MES staff are there to help her.
Denise encourages those in need to approach MES for support. "Always feel free to talk to someone about your problems, because you cannot always do things on your own. The staff at MES are always willing to try and make a plan for you. They will make sure that you get the help that you need. Sometimes it takes long to get issues sorted out, but they will get sorted out eventually."
THABANG MOLEFE – A SHELTER CLIENT WITH A NEW VISION FOR HIS LIFE
Thabang Molefe grew up as an orphan after being removed from his alcoholic grandmother's care when he was three years old. When he failed his Grade 11, he was asked to look for a job and a place of his own. He lost his job in April and has been homeless since.
He was referred to our organisation by social workers from Benoni and came to MES Kempton Park, without an identity document and no money for sheltering. Thabang was hopeless and devastated. Our social auxiliary worker managed to refer Thabang to the Kempton Park clinic for blood tests and they helped him to get his medication. He was then also registered to partake in our GROW Project. This helped him to raise money to apply for an identity document. We have also assisted Thabang to open a bank account.
In Thabang's own words, "The service I have received from MES, was very good. When I told them my story, I wasn't judged and they tried to get me back on my feet as soon as possible. They have provided me with enough space to fix my life on my own, and they are also there when I am in need for daily lessons. I am grateful to MES and hope that I will continue to grow with them."
MES KEMPTON PARK SUPPORTED STAN DICKI ON HIS ROAD TO A BETTER LIFE
Stan Dicki was born and raised in Barberton Mpumalanga and although being in jail for a short while, he still managed to study electrical engineering and start his own business. However, the beginning years were not easy.
He lost his business and had to do part time jobs for a couple of years. Eventually he decided to move to Kempton Park in 2016, but still life was difficult and he had to spend a few nights on the streets. Fortunately he heard about MES Kempton Park for which he is extremely thankful. "At times when I needed it most, MES provided me with a place to sleep and a place to bath and wash my clothes so that I can be presentable when I go out to look for work." For a while Stan moved out of MES and worked as a contractor, general worker and foreman. His journey still had its challenges and he moved back into the MES shelter. The second time he got involved in GROW and currently Stan is working on a part time basis at Sakkie's Electrical, with the hopes of eventually working on a permanent basis. He has registered his own company again which focuses on electricity and waste management.
Stan concludes: "With all that life throws at you, you can pick yourself up and better your life. With the help of places like MES and of course perseverance, I am a living proof."
Carl Bischoff (oom Kallie) is an old man that came to our shelter, after being discharged from the hospital. Before that he lived on and off the streets for about three months. He had nowhere to go and MES Kempton Park gave him a place of safety. His family was in Cape Town and also not in a position to let him stay with them. He immediately settled in and also became part of the MES GROW-Project where he regularly worked the Jesus-Saves-Daily shift. "At MES, I felt part of a family and I am extremely thankful for everything they helped me with. Being in the Kempton Park shelter, gave me inner peace and allowed me interaction with other people, building relationships for life. The service from the staff was excellent and as an elderly person, I am extremely grateful for that. It was 'n privilege to be part of the GROW-team. It motivated me to be positive about life again and allowed me the opportunity to earn some money." After four months, Carl was relocated to the PE shelter, as the environment is more suitable for elderly people.
Michael Ramakoka's journey started in MES in October 2015, after living on the streets for about a year. He became part of the GROW-Project and within a month was promoted to foreman. At MES I have learned how to take care of myself and be responsible. I learned a lot about teamwork and being patient. As leader I realised that I am a role model for other team members and if I make mistakes, it will also influence them. In my time at MES, I did make mistakes. I am very grateful to the organisation for allowing me to learn from that and move forward. As a leader of a team, I have realised to work effectively, everyone needs to know what they are doing, roles and responsibilities need to be clear. The regular outreaches at MES, encouraged me to be a better person and not lose hope, as the Lord has a plan for my life. My dream for the future is to complete Matric and then qualify myself as an ambulance driver.
Tumelo Maripane a 29 year old young man was integrated in the GROW project last year September and was assigned to work at Stay City. Little did he know that his breakthrough in imminent. He was spotted by a guest attending a conference and this guest was attracted to him because of the way he was performing his duties. During that particular shift the guest approached him and inquired about the meaning of the words on his reflector jacket. Tumelo told him about GROW project and he commended him for his performance.
He recruited Tumelo for a merchandising job at Pick 'n Pay and that was his exit from the project. He has been working there to date. Tumelo came back on Wednesday to ask for a reference letter because he will be going to Canada to learn more about merchandising. At Pick 'n Pay he was spotted again by the regional manager while he was busy working in an isle. According to him the manger was so excited in the way he packed his isle that he was chosen as one of staff members to represent Pick 'n Pay in a warehouse in Canada. He was also assisted with the application of the travelling documents and will soon be leaving the continent.
It all started in 1999 when both my parents passed away as they were both infected with HIV/AIDS. After their funeral I was forced to leave school as my relatives and family could not take care of me. I was forced to go stay at the streets of Hillbrow at a very young age and that's where life became very difficult for me as a means of crime and street begging became a way of surviving for me. One day a fellow street friend introduced me to mes and explain to me that thats a place i would get help as i was young and before i could get into a serious problem with the law since i was involved in criminal activities.
In 2007 in went to bg alexander were i explained my story to the social workers who then helped me with accommodation and sent me to training for skills, in that period i was sent to stallion security training centre for security grades, completed them and got a job as a security officer. I continued working for various security company's it was not easy that time for me as security was paying a small salary but i continued working for this company's earning a the salary to survive. Today am working for a fast growing retail cowpony as a senior manager in safety and security.
Thank you very much mes without you I won't be were i am today!
In future am planing to donate something for the organisation as a thanks giving.
Thank you with kind regards
Elliot rampa
WELL DONE KAGISO!
Kagiso Kgotlhang is a Gr 12 learner at High School Die Fakkel. He is one of the foster children of our office.
Kagiso has been selected as the Head Secretary of the Leader Councillors at the school.
Kagiso is a well-known representative athlete of the school.
Kagiso is one of the Top 10 achievers of the school, taking 2nd place.
Kagiso is also a good chess player.
SNENHLANHLA AND OWAMI'S STORY
Snenhlanhla Phungula and Owami Dube (siblings) they were born in KwaZulu-Natal in Rural area, but grew up in Gauteng in a formal settlement with no electricity and no access to community facilities. Their father left them when they were very young and their mother was illiterate and that makes difficult to find employment and her dream is to see her children completes matric and further their studies. Their mother started to work on the road as a volunteer earning R520 per month and it was find difficult to make their ends meet for the whole family. Sometimes she is doing recycling to put plate on the table.
In 2016 Assessment centre conducted an awareness campaign in the informal settlement, one of the Committee members spoke to one of the Auxiliary social work concerning this family home situation as children dropped out of school in June due to that, they did not have school uniform. The mother was invited to visit our offices for help, home visit was conducted to confirm the situation then the process of applications took place and her children got a Bursary from Ikusasa and she was also helped with food parcels and blankets for her children.
Currently she is cleaning the street as volunteer, in January 2017 her children received stationery packs and also vouchers for school uniform they are now attending school in Denver primary school (no fee school) to achieve their matric.
A STORY OF HARDSHIP AND HOPE
Mary* (38) has been in a relationship with Josh* for seven years. At the time of her assessment with the MES social worker she was living with Josh* and their three children. The main presenting problem reported was that Mary* was struggling to provide the basic needs for her children. This was caused by the fact that she was overwhelmed about taking care of the children including Josh*, who had stage 4 cancer. She had no support from her family and friends. The only source of income was the child support grant. So many factors counted against her, she is uneducated; her family relationships are strained and she is unemployed.
Despite all the challenges listed above, Mary* showed commitment to her individual development plan as follows:
She managed to locate resources that can help alleviate her situation. Specifically, she got the hospital social workers involved. These social workers assisted her to apply for a Disability Grant for her partner. She sourced assistance from the Hospice Home Base carers to come to her flat and assist to take care of her bedridden partner. This afforded her the opportunity to explore work opportunities. Luckily she got contract work as a cleaner in one of the rental estates.
Furthermore, she opened communication lines with her in-laws. These in-laws revealed that they took out a funeral plan for Josh*. Josh* passed away two months ago. The in-laws assisted Mary* to bury him. Unfortunately, Mary* was at the verge of losing the flat that was leased under her deceased partner's name. One of the local businessman heard about Mary's story and decided to pay for her rent for the next upcoming 2 months. Mary* used her deceased partner's disability grant to settle her rental arrears at the time.
Mary* was assisted with food parcels from MES and Local Hospital hospice. The food parcels were a great relief as she was struggling to feed her children.
Currently, Mary* is still staying in her flat with her children. She is continuing to search for a permanent Job and she continues to mend her relationships with her family.
We ask for prayer for Mary* and her children for a brighter future.
Mary is an alias to protect the true identity of our client.
She has been with us since last year October, came in emaciated, dehydrated and dull eyed. We all fell in love with the innocence in her gaze. Her small figure limping along in our corridors. Our eyes on her anxiously waiting for any signs of improvement, but she kept disappearing right in front of us. Hospitals and clinics unwilling to do extensive investigations, as she is here without permission from the land of cold mountains, caught in the vicious clasps of poverty and not being able to return.
As last hope we traced her family and let them know that we will send her home for her last days there, as soon as she was strong enough to travel. Then she took a turn for the worse again, but a blessing in disguise as the merciful doctor discovered that her medication regime was destroying her kidneys and started her on a different regime.
The small ambers of hope is glowing again, and maybe this time we will send her home to her people to recover and not to for her last days…
By: Hermien Owens-Collins
Itumeleng was admitted at Impilo at the end of October 2015. She was started on her treatment and we expected her to get better, but she just kept losing weight. Intermittently we sent her to the hospital with shortness of breath, requests of further investigations. Most of which was ignored or just smoothed over with very little treatment. We made contact with her family in Lesotho, telling them about the situation and that we didn't understand why she was not getting better. We were going to send her home to die with her family. She hardly whispered when anyone spoke to her, and slept most of the time. Many people interceded for her in prayers. Then one day she was diagnosed with a blood clot in her leg and we sent her to hospital again. It was then that they discovered that she was not responding to her treatment, and the reasons why – after many investigations which was long overdue, she was put on a different regime. She came back to us, and slowly, over the period of two weeks, we could see the changes in her.
Today, she is thriving, and her loud voice echoes through our corridors, her laughter and smiles come so easily. And this time she will be sent home to start a new life. She went home on 15 May 2016. Praise to God our Lord who see us.
People say that the choices that you make have consequences. Most of the time the choices that you make, lead to consequences that aren't good. I can tell you a story about the choices I have made.
One day, I woke up and decided to give up the keys of a guest house I had managed for seven years, not knowing what my next step would be. I stayed at another lodge in Newton Park for about six weeks, spending all the money I had. One day I realised, my savings had run out. I had to decide on a next step. I did not want to stay with my children, so I decided to find a shelter to live in. I chose the MES Shelter.
I have learnt more at MES during the three years I have been employed as a supervisor than my previous employment.
I felt out of touch with reality, serving the needs of the rich, at MES you serve the under privileged. There is a much bigger reward serving the poor than serving the rich. The privileged seldom truly appreciate those who serve them. Whereas MES' clients appreciate all the help they receive, because many of them are dealing with feelings of hopelessness and MES restores their hope and repairs their souls.
One of my father's dreams, was that I work with children, this dream came true when I got the opportunity to work with Mrs Theresa Jaquire on the puppet show. The Lord is blessing me!
– Sharesse Smith (supervisor MES PE)
GOOD NEWS FOR ETHEL MADIKAZI
One of our other clients, Ethel Madikazi came to MES six months ago as a care worker. We took her on as a nonpayer to help us with the elderly. Unfortunately we did not have anybody for her to care of as most of the sick elderly were in hospital. We struggled to find her a job and could not keep her here anymore as a nonpayer. With great success we found her now a job at the Nazareth House as caregiver. We praise the Lord for answering our prayers.
Cynthia is a young lady who was trained as a chef. After a serious head injury she unfortunately lost her job and her relationship with her family deteriorated. She ended up in the street and started using drugs. When she first entered the shelter, she was also suffering from epilepsy. After many counselling sessions, she was reunited with her mother. Her epileptic attacks are currently under control and she is of great value in our kitchen. For Cynthia spring has at last arrived!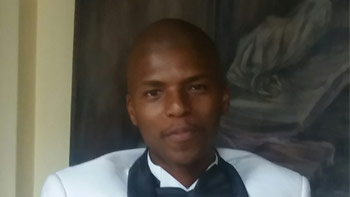 Zakhele Nkosi is a 25 year young man who reflects an example of an individual that MES has helped against the odds stacked up against him.
Zakhele was born in Booysens, Gauteng and attended a boarding school in Magaliesburg from when he was 4 until the age of 18 when he dropped out of school to live with his mother. In 2011 his mother, unfortunately passed away, leaving him with his grandparents in Standerton where he had given up on life after the untimely death of his mother. He soon became involved in robbery and dealing drugs.
He adopted a belief system where he was God and did not need to depend on any other person for spiritual guidance. He became a violent individual and was soon asked to leave his sister's house which he had been living in.
He moved to Hillbrow and met a MES client by the name of Lucus, who introduced him to Pastor Pholoba. The pastor preached to him and with some time, he accepted Jesus. The pastor exposed him to the MES culture and cared for him as his own. He entered the GROW job rehabilitation programme and the pastor assisted him with a place to stay. He is now independent and works at a restaurant in New Town. He has also been given the opportunity to study Theology in Pietermaritzburg as his dream is to become a pastor and facilitate the process of saving others as he was saved.
Clive comes from a large family and as a boy, he left his family to find himself. At age 15, after two years living on the streets, he found employment in Parow. Life with gangsters, however still brought him in trouble and twice he ended up in jail. He was released and then as time went by he realized that he needed to change. He heard about MES from word of mouth, he started to attend all the job rehabilitation programmes that were offered, to his benefit they gave him broader perspective and helped him to look at life in a clear and different way.
He started to learn how to use a computer. Clive also mentions that learning how to use a computer and develop his skills has really played a huge role in his life, this opportunity that he was given at MES is a once in a lifetime opportunity and he will never take it for granted. He has been working for GROW (God Restores Our World) for almost a year, he mentioned that this opportunity has given him the chance to grow as a human being and also the ability and ways to develop himself. Clive now is one of the supervisors for the GROW participants, he is thankful to God and to MES for the chance at life that he has been given and he is a firm believer that everything works out as long as you believe and aim to achieve it.
"I, today hold my certificate of Business Experience Course because of the way you value your client (me). This has really improved my life and the way I approach my small business which provides food on my table today. I thank you and may you shine forever." – Selina Marumo (Impilo patient)
"I am a single parent and I cannot afford to feed my child as well as MES crèche does. My child has never eaten like he has at the crèche- and I would also like to thank you for the bursary given to my child. Because of this bursary I can also take care of my other children that are in school. My child looks forward to coming to the crèche and his speech has also improved after only 3½ months in the school." A crèche parent
"The people of MES were like angels. They gave love like I was at home, which my own parents never gave me. At home it was really, really bad." Micheal Pietersen
"I would like to say thank you to MES for everything that they have done for me I am so grateful my life has changed for better. I still don't believe the life that I have now it feels like a dream, God is faithful." Angela Mbulawa
PROGRESS ON SOME OF THE GROW PARTICIPANTS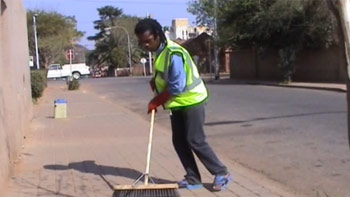 Lubabalo Mpayipeli is 30 old and he comes from Eastern Cape. After completing matric he wanted to study tourism but due to lack of finances he couldn't pursue this dream. Both his parents are pensioners and could not afford to support him financially.
He then decided to come to Johannesburg in search of work opportunites. Unfortunately life was tough for him and he slept on the streets sometimes. When he had money he booked himself in a shelter. Through word of mouth he heard about MES and came to seek for help at Assessment Centre. MES informed him about the courses we offer. While waiting for training he was integrated in GROW project so that he can meet his daily needs.
After a month he did computer literacy and was offered free accommodation at Ekuthuleni for the duration of his training. He completed his training and is hoping to find permanent employment. While waiting for the latter he continues to participate in the project and is grateful for what MES has done for him.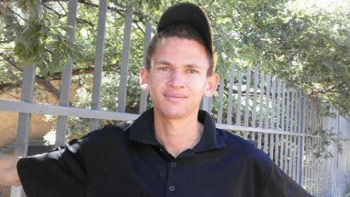 Ferron Hancock is a 24 year old young man from Free State. He is currently sleeping at Ekhaya overnight shelter. He left home because of domestic problems which started after the death of his mom who was then married and living with Ferron's step dad.
Apparently after his mom died he received threats from his step dad and step siblings because they wanted a share of Ferron's late mom's estate. As a result he felt unsafe and decided to relocate to Johannesburg for a peaceful life and better opportunities. He was in Johannesburg for a week and had no support system whatsoever.
MES assisted him with accommodation at our overnight shelter and integrated him into the GROW project. Surprisingly during the F2G (free to grow) training he remembered that he loved farming and that passion was again revived. He is currently doing gardening in our creches, growing vegetables. He was also assisted with re-application of a new ID card and will do computer literacy training next year.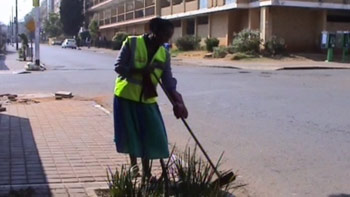 We celebrate with Ayanda Sende for a new job she has found at Soweto Bulletin newspaper company.
She is employed as an Advertising & sales executive and is on three months' probation.
Should she prove herself to be competent she will sign a contract for a permanent position. She will also write an article on spiritual upliftment for the newspaper.
Jacoline Pedro, a single mother of three children, is living in Bellville South. She joined MES four months ago to be part of the GROW (Job rehabilitation) programme. She heard about MES when se want to SASSA to apply for a food hamper but unfortunately her application was rejected. Jacoline was very disappointed, not so much for herself but for her three daughters. She walked the streets of Bellville to see if there was anything she could do or even figure out a plan for herself and her family.
She was informed about MES and the assistance that is don't for the homeless and unemployed community. During her GROW shift she learned about the opportunity to apply for the food parcels. She applied and great was her surprise when she found out her application was successful. Jacoline mentions that the groceries she receives assists her and her family tremendously. It has lightened the load in the household. With and ecstatic beautiful smile on her face Jacoline is thankful and appreciates the opportunity and the efforts put together in making this possible not only for herself and her family but also for the other families that are going through similar situations as herself.
*Katlego was found playing outside because his single mom could not afford a Pre-School.
Someone from" St Peters Childcare" saw him and made enquiries about Katlego and found that his mom a domestic worker had no choice but to leave him outside the room.
The gentlemen from St Peters approached us at the ECD centre and pleaded for me to register the child– even though I told him that we had no space. Katlego was registered in a younger aged class due to space.
This "Good Samaritan" has given Katlego a bursary to cover all his requirements.
Not well versed in English (which is our medium of instruction) – he struggled in the beginning – but much to our amazement he picked up very and his mother also assisted.
Due to the nourishing meals ( thanks to KFC) the children eat – which is well balanced – Katlego is doing extremely well; he can concentrate, is very energetic and from a shy little boy he is now very talkative and assertative.
St Peters keep a constant check on Katlego by visiting him at the creche and also checking on his mom, and the conditions at home.
Katlego is in Grade "R" this year – and will graduate in November 2017.
The donors have said that they will assist Katlego – till he is properly settled.