Meet Senzo, a MES outreach worker from Cape Town
"It humbles me, each day I meet people who have degrees and who wanted to be something in life, it happened to them."  – Senzo Madida, 21 Outreach Worker for MES Cape Town.
Outreach with MES entails going out on the street to find out where homeless people sleep, and to build relationships with them. The goal is to network and inform them about the services that we have to offer.
"I go out and see where they are living and see why they are there", says Senzo, a MES Outreach Worker in Durbanville, who sees roughly 45-50 homeless people each week.
According to Senzo, building relationships with those in need is key to getting them to trust you enough to accept help.
To achieve this, Senzo works closely with officials at the City of Cape Town. As soon as they inform Senzo about new tents being pitched by the homeless, he accompanies them to where the need is, offering services and support to the homeless.
"Most importantly, I build trust. We need to go on the street and tell those in need what we can do to help them. They need to be able to trust us enough to let us help them. Usually, we judge people without understanding what led someone into that situation", says Senzo.
"Usually, the first thing that people need is an identity document, so that they can get a job. That's one of the first things that I assist them with", he continued.
According to Senzo, anecdotally, almost all of the people who are on the streets in his area are from other parts of the country. Usually, they came to Cape Town in search of better opportunities. However, they don't have any friends or family here, which leaves them with no support structure.
In doing outreach, Senzo tells, you also come across those who were transferred to a prison in Cape Town from other parts of the country. Upon release, they're either too ashamed to return home, or their families flat-out reject them. Their chances of getting a job are exceedingly low because employers don't take kindly to criminal records.
In his experience, Senzo has seen a cycle emerge among those released onto the street after having been in prison: "They live on the street for two weeks before being introduced to drugs, after that, the likelihood of them getting off the streets is very low indeed", Senzo elaborated.
"There are also those who want to go back to prison because, after a month on the streets, they find that life was better in prison, so they commit other offences to go back", he added.
For most people, getting off the street is very difficult. It takes a lot of hard work and dedication from both the outreach and social worker, and the homeless person in question, to make it happen.
Senzo went on to share what the most profound impact that his job had on him was, saying: "it humbles me, each day I meet people who have degrees and who wanted to be something in life, and it happened to them. They became homeless.
He recalled an incident he came to learn about in which a woman was raped but refused to seek help for fear of her safety. "God has taught me to be grateful. We don't realise what we have until we see a girl living on the street with a child, or being pregnant on the street", he continued.
There's a lot that Senzo would change about the way that society deals with homelessness, from preventing people from shaming them on social media to building more shelters to get the needy off the streets. Adding that he would like to see greater access to substance abuse rehabilitation services.
"Sometimes I see a person and he tells me 'I'm done with drugs', then the next day he comes back saying that someone gave him R50.00 so he went to get more drugs."
"But if I could put them in a shelter, at least I would know that they are safe and have access to nursing and social workers. They would be less likely to relapse under those circumstances", he said.
That is because once they have a safe space, there is structure and routine, and they are busy. But on the streets, they are being led to drugs, he added.
"We can't help everyone but I'm telling you, we can help most of them", Senzo concluded.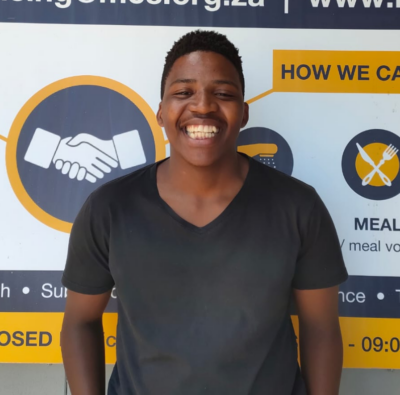 MES outreach worker, Senzo Madiba, sees roughly 45-50 homeless people a week.