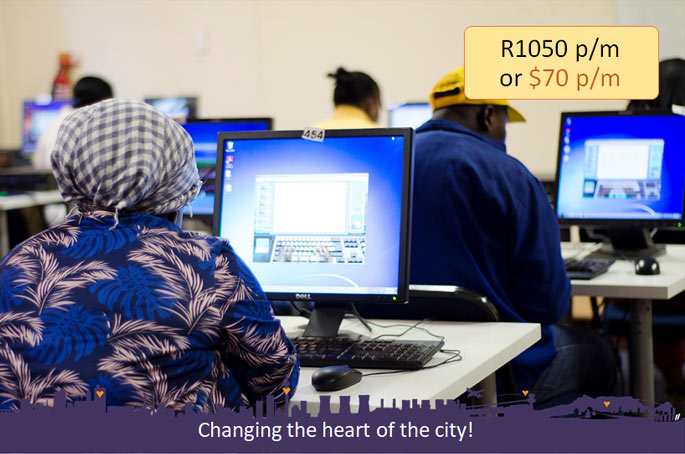 The high unemployment rate in South-Africa lead to many young people left roaming the streets. The skills training programme offers them additional education opportunities to increase employability. This programme consists of a variety of accredited courses, job preparation workshops and a resource centre for job seekers. Your donation will cover the expenses of one trainee for one month.
Training & Skills Development

DONATE & Protect the destitute amid Covid-19!
MES is a service organisation and our staff is our most important resource and asset. Contributions towards the salaries of our social workers, community health & outreach workers and teachers strengthens our capacity to change hearts in the city! Social Support Services
The high unemployment rate in South-Africa lead to many young people left roaming the streets. The skills training programme offers them additional education opportunities to increase employability. This programme consists of a variety of accredited courses, job preparation workshops and a resource centre for job seekers. Your donation will cover the expenses of one trainee for one month. Training & Skills Development
The learners in middle school do Performing Arts activities. Dance4aPurpose performs a musical annually. Through the Dance4aPurpose programme children & youth at risk find a safe place to belong and develop their self-esteem through performing arts. Your donation will assist one learner to join the Dance4aPurpose programme for a month. Dance4aPurpose
MES provides secure accommodation to the homeless and vulnerable in overnight shelters & the Safe Space in Cape Town. Your donation will offer a warm bed with locker facilities and a warm shower to an individual for a night. Shelter - A Safe Space
The Joshua Youth Volunteer Programme is a servant leadership programme. Annually 14 youth is offered the opportunity to enrol for a service year of 12 months. They play a key role within the learner and pre-school activities. They become mentors to the learners in the after school programmes. Your donation will cover the monthly expenses of a Joshua Volunteer (includes accommodation, 3 meals, training, transport & a stipend). Youth Servant Leadership
MES is a service organisation and our staff is our most important resource and asset. Contributions towards the salaries of our social workers, community health & outreach workers and teachers strengthens our capacity to change hearts in the city! Community Health Services
GROW is a job rehabilitation programme that provides an alternative to the homeless and unemployed community to aggressive begging and petty crimes. Your donation will enable a full GROW team (1 Foreman and 4 GROW Participants) to have guaranteed shifts for a month and give them access to OT services. This is often all that is needed to pull them out of hopelessness. GROW Job Rehabilitation
Supporting a broken family is better than breaking up a family. Part of the social relief services is the monthly food parcel project. This is for a maximum period of 6 months. MES provides the poor and needy families and individuals that live in small rooms, apartments and caravans in the inner city with a food parcel for a month. Your donation will make this possible! Social Relief
MES is a service organisation and our staff is our most important resource and asset. Contributions towards the salaries of our social workers, community health & outreach workers and teachers strengthens our capacity to change hearts in the city! Teacher Support
This programmes provides a safe environment for learners after school whilst the parents are still at work. Here they are able to do their homework, get support with school projects and have a balanced meal before going home. Often the only meal per day. Your donation will ensure that one learner is safe and fed at our After School Programme for a month. After School Programmes
A healthy body houses a healthy mind. Nutrition is a key activity in our pre-schools and after school programmes. Nutrition is equally important for your youth in training and the homeless adults at the canteen. Your donation will enable us to provide a nutritious meal to one individual per day. Nutritious Meals DONATE NOW
MES pre-schools offer affordable solutions for early childhood development where appropriate education, nutrition and stimulation is offered to ensure that key development milestones are reached. Your donation will enable us to offer a bursary to a child in need. Early Childhood Development