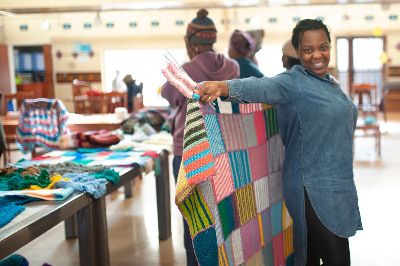 During the COVID-19 lockdown period, the staff at MES Impilo Shelter realised that the shelter clients had immense creative talent. Through donations of wool, beads and sewing material the women started to produce various items.
On Friday, 28th August 2020, MES Johannesburg hosted a women's day event for the shelter women, with aims to tap into what women can do to help themselves in identifying skills for survival. MES Johannesburg is proud to announce that what had stemmed from their efforts are beautiful bespoke items that were on display and for sale at the Rosebank Sunday Rooftop Market on the 1st of November.
This space allowed the women to showcase their items on a much bigger platform to a wider possible customer base. Lockdown has affected many livelihoods, especially those without proper employment. The way forward is to develop entrepreneurs from among our shelter clients who use their creative skills to produce and sell items. This will help them earn an income to cover some of their basic needs.
We are pleading to the general public to come support our ladies beautiful handcrafted items. These items are more than just a product. They are hundreds of hours of failures and experimentation, frustration and moments of pure joy – they are made with love and passion with an intrinsic story of hope.