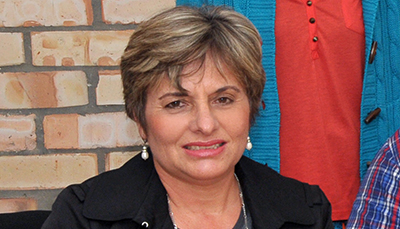 "I think the most valuable thing I learnt was that every person has a story, and that every person's story is important. I must have patience with people and try to understand their story.  There are no quick fixes in life.  The Lord uses his children to Mould and Empower people while Serving!" writes MES Port Elizabeth Branch Manager, Theresa Jaquire, in her goodbye message to Friends of MES.
Jaquire joined MES Port Elizabeth in April 2013 as an Administration Officer.  Over the past seven years she was involved with finances, stats, the Winter Hope and Mandela Day campaigns, fundraising activities and visiting of churches.
After attending a function at the Dutch Reformed Church in 2010, where MES had a presentation, she said: "I had a small wish – a wish that I could get involved with the work of MES.  I moved to Port Elizabeth two years later and got involved with the Dutch Reformed Church Lorraine and the MES PE soup kitchen in New Brighton."
In 2018, Jaquire was then elevated to the position of acting Branch Manager for four months and she had since been acting until end of June upon her resignation.
Meanwhile, MES has recently welcomed new Branch Manager, Ronny Naude, who comes with commendable experience in drug rehabilitation particularly for young men. Naude has a clear vision for the shelter rooted in creating an environment for growth and prosperity.
We thank Theresa for her great heart of service and all she has done to positively impact the lives of the homeless and vulnerable community in PE and its surrounds.