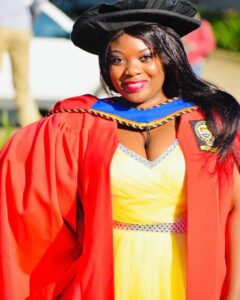 Despite the challenges of having suffered from depression in the last academic year of 2021, after four years of embarking on her PhD Journey since 2018, Nyasha Chatikobo can now put the title "Dr" after her name.
"I was studying Project Management and PhD, while working at the same time. So, my brain collapsed," said Dr Nyasha Chatikobo, 32-year old National Impact Advisor for Monitoring and Evaluation at Mould Empower Serve (MES).
Hailing from Bulawayo, second largest city in Zimbabwe after Harare, Dr Chatikobo came to South Africa in 2009 to pursue a Social Work degree qualification at the University of Fort Hare, Eastern Cape province. After accomplishing her qualification in 2012, she advanced her achievement to a Master's Degree in 2014 to 2015 record time.
In 2018, while employed as an Impact Advisor for Monitoring and Evaluation at MES, Dr Chatikobo immediately took her enthusiasm in academia to another level, as she enrolled for her PhD in Social Work with the same university where she's now graduated as Doctor of Philosophy in Social Work. Important to note, she is also graduated for a Higher Certificate in Project Management in the academic year of 2021 at the University of Witwatersrand in Johannesburg, Gauteng province.
Asked about her PhD research topic, Dr Chatikobo investigated The Impact of Treatment Programmes offered to relapse patients in Rehabilitation Centres in Gauteng. More ever than before, she is delighted that her qualification and experience in research will help MES become an outstanding information leader it is, in provision of in-depth knowledge about substance use disorders, in order to alleviate the scourge of homelessness found in the inner South African cities.
"It is an honour to serve the homeless and being able to understand what they go through in order to come up with solutions to solve homelessness. This will help improve our approach method of intervention with homelessness," beamed Dr Chatikobo.
While aspiring for a practical success in treatment of substance use disorders, Dr Chatikobo says she's grateful for the support received from MES allowing her study leave and extra time to focus on completing her studies. Interestingly enough, in addition, Dr Chatikobo also holds a Post Graduate Diploma in the course of Monitoring and Evaluation acquired in 2018 from Stellenbosch Univiversity, Western Cape province.