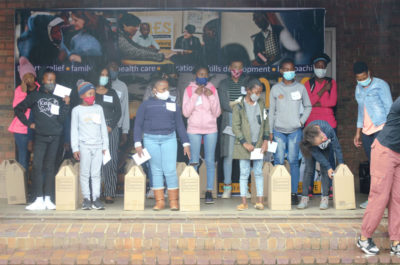 The Ikusasa Foundation is a group of individuals from the Netherlands who have been supporting MES for the past few years. Every year they personally come to South Africa to donate stationery to underprivileged school children from Soweto and Hillbrow in Johannesburg. Even though COVID-19 travel restrictions meant that they were unable to deliver the donations personally, Ikusasa ensured that their valuable donations were still delivered in time for the new school year.
The Ikusasa Foundation donated uniform vouchers, stationery and lunch packs to over 152 learners through the MES Social Work Support (SWS) programme for the 2021 academic year. The donations received in January this year were given to at least 80 school children in Hillbrow and 72 children from Mofolo Park in Soweto. The donation will add incredible value to ensure these learners have a successful academic year.
Our Social Support Services include a holistic approach through assessment workshops for the After School Programme (ASP) parents and learners. Using our new Monitoring & Evaluation tool  Poverty Stoplight, social workers are able to conduct needs assessments to determine effective distribution of food parcels. Moreover, they also host workshops with the learners about social issues and how to respond to bullying or abuse.
MES continues to appreciate the Ikusasa Foundation whose contribution supports us in serving inner-city children. Thank you so much for changing lives of our valued clients and their families