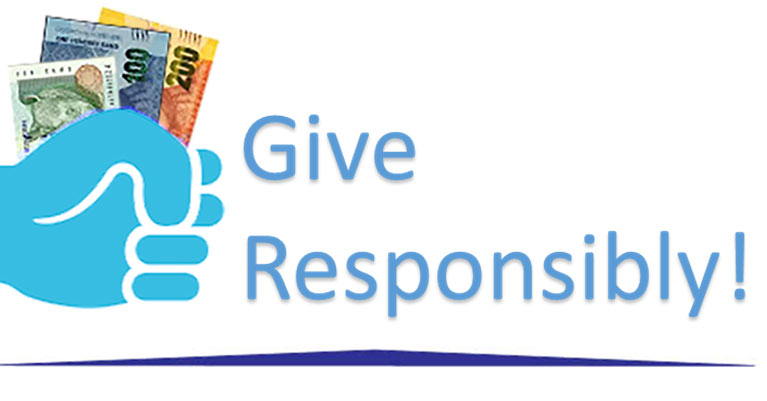 MES Cape Town is calling on corporate donors and individual volunteers to support the Give Responsibly campaign, which discourages residents in the Western Cape province, from handing out money and goods to the homeless living in the streets.
As our campaign objective and part of our role to empower and uplift the destitute, we urge the community to refer homeless people at non-profit (NPO) organisations, such as MES. While there is over 14 000 homeless people in Cape Town at cost of R700m spent a year,  according to  The Cost of Homelessness Study in Cape Town, there's seemingly been short-term solutions to the problem which are not only expensive but fail to help people get off the streets.
When and how to Give Responsibly?
We encourage the public to "Take cash out of the system" by buying food and shelter vouchers and refer people in need to charity  organisations such as MES, who will assist them through a high-level of social support services which the street people need.
Why should the public not give hand outs:
Giving money to children on the streets encourages them to leave home and stay out of school, promote substance abuse and keeps them away from organisations that are there to help them.
Giving food and clothing also does not help, it is sold or exchanged.
Giving money or support directly to street people demotivates them to search for professional social services which can change their lives.
SHELTERS IN THE CITY OF CAPE TOWN 
MES Safe Space, 1 AJ West street, Bellville 021 945 8028.
Elim Night Shelter, 47 Third Ave, Elsies River 021 591 2824.
Happy Valley Shelter, Off Palace Hill Road, Simon's Town 021 786 5087.
The Haven Night Shelter, Moira Henderson, 107 Chapel Street, Woodstock 021 461 2533.
The Haven Night Shelter, Napier, 2 Napier street, Green Point 021 421 6219.
The Haven Night Shelter, C/o 10th Ave & Metaal Street, Retreat 021 715 0817.
Loaves & Fishes Shelter, 1 Chatham Road, Mowbray 021 448 5900.
The Haven Shelter District Six, 20 Selkirk street 021 465 1310
The Haven Shelter Wynberg, 16 Piers Road, Wynberg 021 762 8243.
The Haven Kraaifontein, 21 Van der Ross Street, Eikendal 021 987 1967.
What is Responsible Giving?  
Sponsor a meal or shelter voucher.
Sponsor a Job Rehabilitation shift.
Donate good quality clothing, food products, toiletries and cleaning material to organisations who offer services to street people.
Sponsor a grocery gift card voucher for food.
Donate your time by volunteering.
Sign a debit order form for a programme of your choice.
Give time and respect to street the homeless.
Referring them to charity.
Using a resource list of your area.
Know your 'hood' (neighbourhood) – get to know the organizations in your area.
"Give a hand up, not a handout"