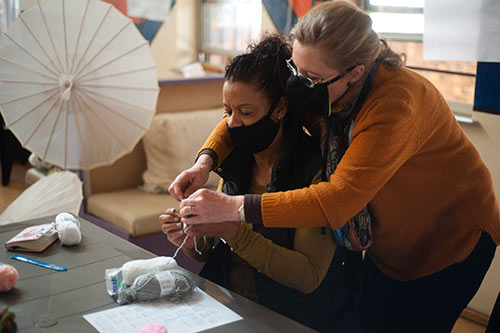 In commemoration of Women's Month, MES Johannesburg has committed itself to acknowledge and empower the women housed at our Impilo shelter through a Tea Party that resulted in business booming.
Friday, 28th of August 2020, became a hive of activity and excitement at the shelter as all our ladies took part in different activities organised by our volunteers, including Hillsong Africa Foundation, Embark Foundation, Mosaïek, Parkview, Johannesburg and Jenny Currie of Baby2mom Egg Donation who came to impart and teach some skills in MES Johannesburg's Knitting and Crochetting Project for beneficiaries at Impilo shelter for women.
Under the theme of #Shematters initiated by University of Johannesburg, the objective of such event has been literally to make the most vulnerable women found in the inner city feel special and, also to emphasise that they too are important and matter in a society. Of the other skills that were imparted during course of the event, include sewing, beading and cup-cake decoration.
Apart from charting a way for women in being financially independent, most definitely, this will help the ladies to take what they learnt and turn it into lifelong skills to assist them to better their lives. MES also appreciate the support received from ABSA South Africa for the generous donation of blankets to our shelter ladies. To the team – thank you so much for blessing us with a delicious nutritious lunch!
On behalf of the ladies in our shelters – Thank you to everyone for spending time with us, giving of your skills and talents and for the generous gifts you brought. Please, follow our website to donate wool and get involved in the Knitting and Crochetting Project 2020 :https://mes.org.za/mes-johannesburg-2/.