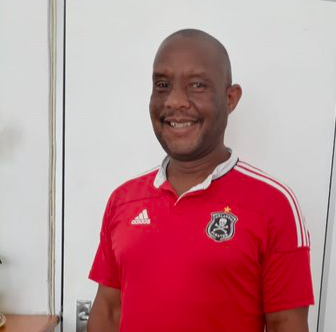 From homeless to Supervisor, Langanani tells of his journey from tragedy to triumph
Langanani Muleyo saw his life take a turn for the worse when he wound up on the streets after having lost his job. Originally from Johannesburg, the father of two said that his family tried to support him at first but after more than two years without a job, their ability to help him dwindled.
"Well, I've been through a lot, starting from being on the street."
"I was renting a back room of around R1100 per month when I lost my job in 2017. I couldn't manage to pay rent. My siblings had families of their own and could not continue supporting me, said Langanani."
"Then, things got worse. I started having relationship problems, and It's been six years since I last saw my eldest son. Things became too much, so I left Jo'burg to start afresh somewhere else," he continued.
When Langanani arrived in Cape Town, he went to Safe Space, a MES night shelter in Bellville. There he learned that he had to queue, every day, to get a place to sleep.
That meant that his space was not guaranteed as it was accessed on a first-come-first-served basis so that people are treated fairly. "I had to be there by 14h00, or I would not have a place to sleep that night," said Langanani.
At Safe Space, it costs R10.00 per day for a bed and R2.00 per day for a locker, a total, R12.00 per day. To afford that, Langanani would survive on bread and peanut butter.
"It was difficult. That is why I went to see a social worker at MES after the second month of being at Safe Space. And that is when I was referred to GROW, a job skills rehabilitation programme that MES offers.
"When I started there, I was earning R70.00 per four-hour shift. That is the opportunity they give to people, equally. Usually, I wouldn't get more than two to three shifts per week. Getting three shifts per week was a bonus because getting that money would help me survive. I would have money for bread and the R12.00 I needed to secure my spot at Safe Space every night," Langanani shared.
One day, Langanani got to the Safe Space shelter in Bellville, where they told him that the shelter was full. "I didn't know where to go, so I slept on the street. It was so scary, that I just thanked God when I saw that dawn was approaching," Langanani said. The second time that the shelter was full by the time that Langanani got there, he was too scared to sleep on the street so, he snuck into a local park where the security caught him just after midnight.
"At that moment, I had only R40.00 in my pocket and a payslip for the R140.00 that I have earned from working my two shifts that week. I showed it to them and eventually, they allowed me to sleep but warned me that it would have to be the last time. I thanked them, and I thanked God for that day.
"It was not easy but, while I was at GROW, I made sure to go the extra mile every time I got a shift. Eventually, they saw my effort and trained me to be a team leader," Langanani added.
Once he was appointed as a team leader, he started earning better and things took a turn for the better. "It made a huge difference to me. I was also getting more shifts per week, usually between three and four shifts per week," he said. That inspired him to do even better, and his superiors noticed his growing ambition. Eventually, he was nominated to be trained as a supervisor. "I became a supervisor, with the support of the people at MES, who helped me along the way," Langanani shared.
While working as a supervisor for MES, Langanani was noticed by other organisations, who are in partnership with MES, like the Voortrekker Road Corridor Improvement District (VRCID), and The Greater Tygerberg Partnership (GTP). Eventually, he was nominated again to be the supervisor for the new Buy Back Center aalmost tripling his starting out wage of R70.00.
"So, my life is getting better."
"MES has since accommodated me at their second phase house. Everyone at the second phase house has a dream and something to achieve. MES is supporting us with occupational therapists and social workers, who are there to engage with us.
"Today, I'm very thankful. I don't have words to describe how they have empowered me from just being on the street, up to where I am now, a supervisor," he continued.
Langanani shared that he feels himself growing daily in leaps and bounds because of the nurturing MES provides. "The future looks bright," he said.
To donate to MES Cape Town, please click HERE and help us change a heart in the city.