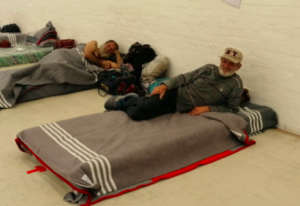 In a recent survey done by MES and our partners indicated that unemployment is one of the main contributors of homelessness in South Africa.
To address the issue, the City of Cape Town Public Employment Programme (PEP) has teamed up with MES and 13 partner organisations. The programmes hopes to address homelessness through skills development. Our GROW programmes has become a key component of the PEP partnership.
GROW is a job rehabilitation programme offered by MES. The programme provides the homeless and unemployed community with an alternative to aggressive begging and petty crimes. Five MES clients who participated in the programme have since become permanently employed as a result.
The programme is designed to give our clients access to skills development and employment opportunities, like in-service training. The objective of this programme is underscored by the vision and mission of MES, which is to empower people holistically to live independent, sustainable, and meaningful lives.
The hope of seeing homeless people build lives for themselves hinges on their ability to find and sustain jobs. Our goal is to see more people becoming permanently employed, so they can get off the streets for good.
To find out more about PEP and how the programme continues to drive sustainable change within the homeless community of Cape Town, please read the LATEST SURVEY HERE.